Despite accurate research and constant updating of the contents, errors may occur. We take no responsibility for the accuracy and completeness of all information.
For your safety, please ask the organizer for further information.
Weather forecast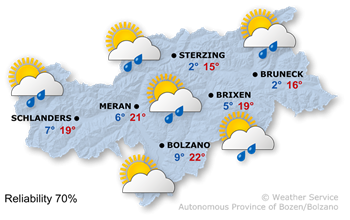 Weak high pressure conditions.
In the morning very sunny. During the day cumulus clouds with some rain showers. Widespread rain over night.
High temperatures between 14° and 22°.
In the morning good conditions, on the alpine crest already some clouds. IN the afternoon isolated rain showers.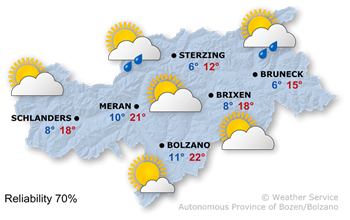 Northerly upper level flow will bring cold air masses towards the Alps.
Cloudy weather with some showers in the North. Partly sunny weather in the South.
Top temperatures betwewn 12° and 22°.
Clouds and showers can reduce the visibility along the main alpine crest. More sun in the southern mountain groups.
Plan de Corones