Despite accurate research and constant updating of the contents, errors may occur. We take no responsibility for the accuracy and completeness of all information.
For your safety, please ask the organizer for further information.

Weather forecast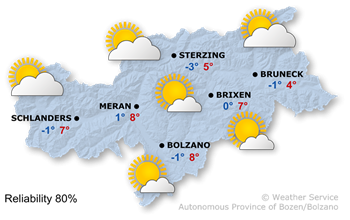 Northwestern currents will bring dry air masses to the Alps.
In the afternoon mostly sunny, later new clouds from west.
High temperatures between 3° and 8°.
Last residual snow showers on the alpine crest, then sunny weather everywhere.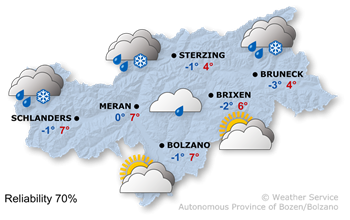 A warm front will reach the Alps and will bring rain and snow, especially in the north.
In the north rain and snow at times. Snow line between 1300 and 2000 m. In the south, it will remain mostly dry but cloudy.
High temperatures between 3° and 7°.
Snowfall on the alpine crest and in the Ortler group with the snow line rising to 2000 metres at times. Only isolated precipitation in the south, mostly dry.
Tuesday

Temp. max: 7°C
Temp. min: -2°C
Wednesday

Temp. max: 7°C
Temp. min: 0°C
Thursday

Temp. max: 8°C
Temp. min: -2°C

On Tuesday cloudy with light rain on the alpine crest. Wednesday will be cloudy with some precipitation is expected during the course of the day, with the snow line at around 1200 m. On Thursday changeable on the alpine crest and sunny in the south. Friday mostly sunny.

Source: Hydrographic Office of the Autonomous Province of Bolzano

Malles