Despite accurate research and constant updating of the contents, errors may occur. We take no responsibility for the accuracy and completeness of all information.
For your safety, please ask the organizer for further information.

Weather forecast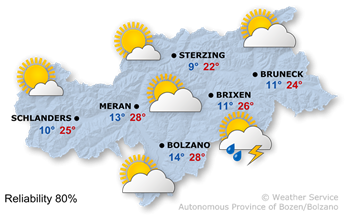 Decreasing influence of low pressure system, dryer air masses.
In the afternoon, some cumuliform clouds will develop and isolated showers or thunderstorms are possible.
Maximum values from 22° to 28°.
In the afternoon cumulus clouds will develop and some thunderstorms are possible.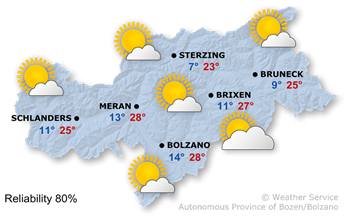 Weak high pressure conditions.
Mostly sunny conditions with some cumuliform clouds in the afternoon, but only isolated showers or local thunderstorms.
Maximum temperatures from 23° to 28°.
Stable conditions on the mountains in the morning, later on some cumulus clouds and local showers or thunderstorms.
Thursday

Temp. max: 27°C
Temp. min: 11°C
Friday

Temp. max: 29°C
Temp. min: 11°C
Saturday

Temp. max: 30°C
Temp. min: 12°C

Thursday there will be a mix of sun and clouds with some showers or thunderstorms in the afternoon. Friday more stable conditions, summery and quite sunny, only isolated thunderstorms in the second part of the day. On Saturday summery conditions. Quite sunny also on Sunday but a increasing probability of thunderstorms in the afternoon.

Source: Hydrographic Office of the Autonomous Province of Bolzano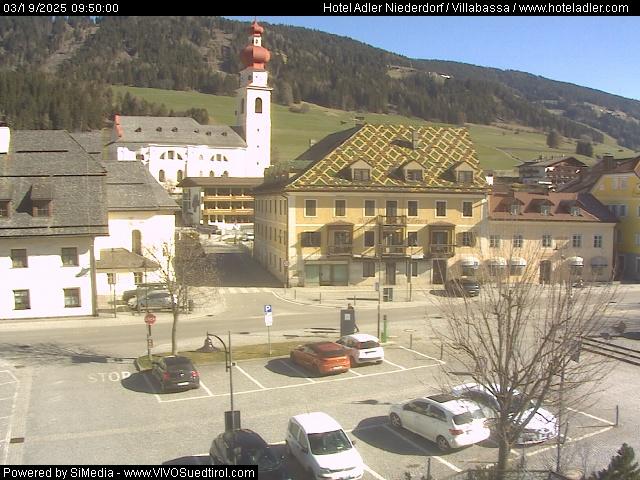 Villabassa