Despite accurate research and constant updating of the contents, errors may occur. We take no responsibility for the accuracy and completeness of all information.
For your safety, please ask the organizer for further information.

South Tyrolean Culture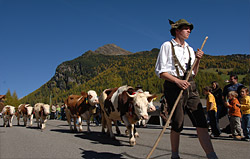 South Tyrol stands out not just because of its uniquely beautiful scenery and hospitable people - the area also offers many cultural highlights. Immerse yourself in an exciting past and discover more about the area and its people, history, art and culture. At every turn visitors who are interested in culture can learn more about South Tyrol, because it is there, waiting to be found in every village and around every corner.
With its numerous impressive castles, imposing palaces and romantic ruins, South Tyrol is Europe's most becastled region and is viewed as a true paradise by art and culture lovers.
Alongside interesting architectural buildings from different eras, there are also well preserved and unique frescos in the many centuries-old churches and lovely chapels, as well as the traditional local handicrafts, such as the wood carvings – known far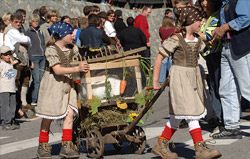 beyond the borders of the area – from the Gardena and Badia Valleys, which continue to fascinate visitors to South Tyrol.
Tradition and custom also figure largely in South Tyrol. Countless traditional clubs, to which belong above all the many different traditional costume and shooting clubs, as well as the numerous bands, nourish and cultivate the cultural treasures and customs of the area. The many original and informative museums also live up to their responsibility in this respect and offer their visitors interesting opportunities to get to know the country and its people better.

San Leonardo in Bressanone